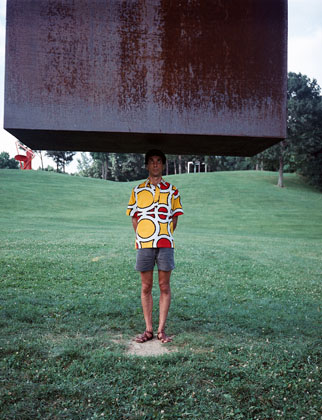 My interest in photography began in high school when my father gave me his 2 1/4" camera, the one he used for years to document my family.

He also taught me to develop film and print photos. I took a photo class and began my new "hobby." After a few years, I graduated to 35mm and took another photo class.

Over the years, I experimented with many lenses, settling for a 28mm, all the while shooting b&w. I liked the wide angle because it taught me about the graphic nature of composing within the frame.

By this time, I was in college studying art and realized that photography could be "art." This revelation led me to art school where I spent many hours in the library discovering photographers with visions I could relate to — styles called documentary, formal, and straight — in both b&w and color. It was particularly through the work of Walker Evans, Robert Frank, Nathan Lyons, Robert Adams, Lee Friedlander, William Eggleston, Joel Sternfeld, Stephen Shore, and Joel Meyerowitz that I found a connection. This, coupled with my other art classes, helped me make the leap from b&w to color work.

After graduating, I progressed to medium format. I currently shoot with a 6x9 cm camera — which has proportions similar to 35mm — but allows me to make sharper enlargements.

James Maiello Photographs | P.O. Box 1578 | New York, NY | 10009 | (718) 499-4185 | jamesmaiello@earthlink.net
All Rights Reserved.